What is the Aetonix Care Pathway?
At Aetonix, we recognize that the patient journey is a challenge for people at all levels of the healthcare system. This is true in all care settings, and also when patients are transitioned between care settings. Clinicians become disconnected from patients, patients feel lost, and families are left wondering how they can help. The Aetonix care pathway is a solution designed to address the challenges and keep each patient's journey on track.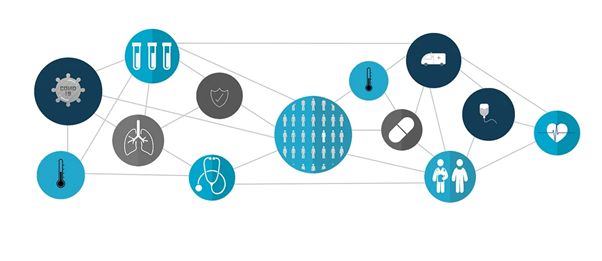 The Aetonix care pathway is an all-inclusive customizable package consisting of clinical workflows, assessment forms, and educational materials. It allows healthcare organizations to guide and coach care team members, caregivers, and patients on the right actions to take during the entire care process.
This tool keeps all parties aware and connected throughout the patient journey. In this age of patient-centric care, you can set a personalized path for your patient and care team to follow that helps comply with guidelines, standardize care, and optimize patient health outcomes.
It also improves the care experience for healthcare professionals by making them more efficient. Furthermore, it provides easy access for adding any other stakeholders to the patient's circle of care. Thus, it's a win-win for all!
The Aetonix care pathway has six defining characteristics.
1. Condition- or Procedure-Specific
The Aetonix care pathway provides multiple pathways depending on the condition of the patient. These include options for:
Patients with one or more chronic conditions such as diabetes, chronic obstructive pulmonary disease, or heart failure
Patients with a more acute condition that requires a home intervention such as mechanical ventilation
Various procedures, including elective surgeries such as cancer removal and same-day surgeries like joint and hip replacement
2. Involves Everyone in the Patient's Circle of Care
Aetonix recognizes the multidisciplinary nature of the modern healthcare workforce. In the course of the care journey, patients come into contact with physicians, specialists, nurses, therapists, pharmacists, caregivers, and many more people who play a part in treating and managing the patient.
With all these parties involved, it's helpful to have a standardized a clinical protocol for all members of the care team to interact with the patient. With the Aetonix care pathway, everyone knows their role, and their boundaries. The care admin can grant different levels of privileges depending on the role of each member.
3. Acts as a Coaching Tool
The care pathway is not merely a series of protocols that outlines the clinical roadmap for each patient. It is also a coaching tool that guides every participant on the best action to take at that point of time.
Simply upload educational material surrounding the case into your library in order to educate the patient, caregivers, and care team members. This material provides team members with continuous guidance on what they must do at each step, and how best to do it.
By educating and coaching the patients, you can help them live healthier lives via self-care or recover faster from a procedure.
4. Provides a Live Care Experience
The care pathway is much more than a digitized care plan. It not only outlines the course of treatment, but accounts for the different outcomes that may occur.
The care pathway is a live-action plan that details the steps to be followed in the course of treatment. Depending on the symptoms of the patient, each step can have multiple routes of action. The pathway provides live guidance to the care team and patient on the care to be provided, and this guidance can be adjusted based on clinicians' decisions or the patient's real-time data.
5. Serves as an Information Tracking Tool
In an industry as sensitive to information as healthcare, accurate documentation is essential. The Aetonix care pathway helps to capture patient information through remote monitoring of vital signs, customizable assessment forms, health questions, and symptom surveys.
Through the care pathway, healthcare professionals can track or acquire health data which helps in making better informed clinical decisions and evaluating the patient over time. All patient information—like medication history, hospital visits, conditions, and plans of action—can be included in the forms.
6. Flexible and Customizable
We have off-the-shelf pathways that are ready to be implemented, borrowed from other organizations. You can use these as is, or adapt them to create your own care pathways.
We understand that every organization is different, down to the departmental level. You've developed your own evidence-based clinical workflows, educational materials, and assessment forms to use with your patients and their care team.
Our Professional Service team has the experience and talent to help you apply your own protocols to create pathways that take your patient care delivery to the next level.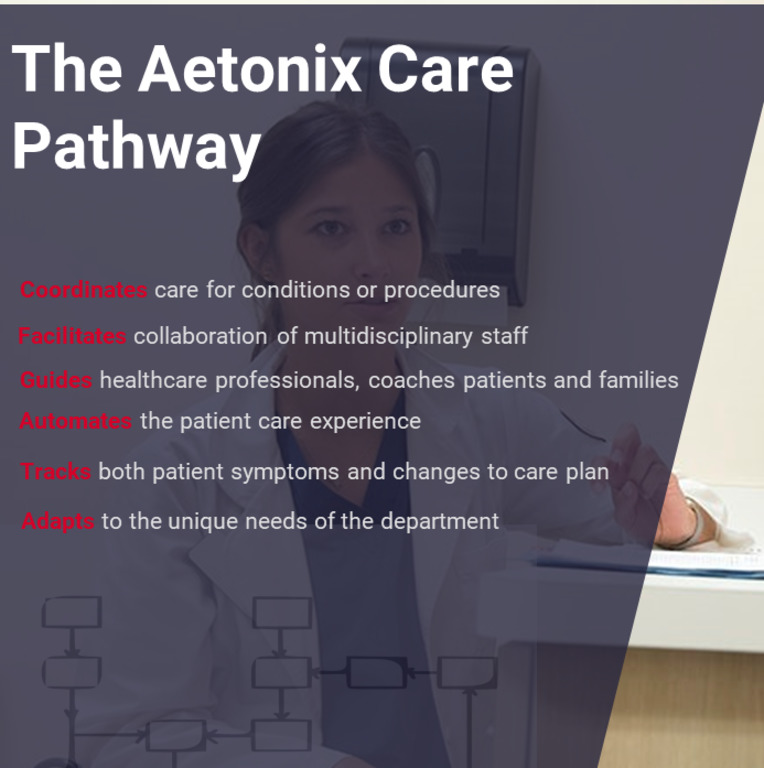 Looking Ahead
For managing chronic or weakened patients at home, facilitating their transitions from one setting to another, and helping isolated patients connect to both clinicians and the outside world, the care pathway is a one-stop solution. Whatever situation your patient is going through, Aetonix can help smooth the journey with the care pathway, using the aTouchAway™ platform.
Many thanks for reading. If you haven't already, please consider subscribing to our blog by going to our blog page and scrolling down to the subscribe form. Feel free to share this post on your Social Media channels by using the share buttons at the bottom of this page.