Remote care isn't only about technology and a system filled with medical professionals. It's about providing care that focuses on all aspects of the patient's well-being. Family members are a crucial aspect of this care – as they can provide support that goes beyond traditional healthcare. At Aetonix, we recognize how important family participation is when it comes to improving patient outcomes. In this blog, we will discuss the key benefits of including family in the circle of the patient's care and how you can incorporate these benefits into your digital practice.
The Importance of Family Members
Family members play an important role in our lives. Based on the idea of healthcare, family members can be the source of support for patients. Not only can family members help manage a patient's health, but they can offer encouragement throughout the healing process. Family members are also the ones to first notice changes in health and can help ensure that a patient receives the care they need. For these reasons, the family members' involvement with the treatment process can have a remarkable impact on a patient's health results.
Support With Treatment Plans
When family members are involved within the circle of care, they can help reduce healthcare costs in a number of ways. Family members have the ability to play a critical role in helping patients manage their health conditions and follow their treatment plans. For example, family members can assist them with cooking healthy meals, remind them to take their medications, and also have frequent check-ins. This can help prevent complications and reduce the need for medical emergencies because they are constantly watching over them. Family members can also communicate with the patient's healthcare providers about any changes in the patient's conditions. This can help prevent unnecessary tests and reduces the risks of medical errors, which can help with healthcare cost savings.
Emotional Support
Emotional support is crucial for treatment. Chronic health conditions can be overwhelming, and patients can experience a range of emotions, including anxiety, depression and isolation. However, if family members are involved with their treatment plan, patients can seek emotional support and their family members can give them a sense of connection. This can reduce isolation and feelings of loneliness. A family member can provide emotional support by giving encouragement, a listening ear, or even just acknowledging their presence. By reducing feelings of isolation, family members can help a patient feel more supported, which can in turn lead to improved treatment results.
Reduce Medical Errors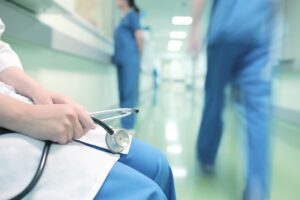 Medical errors can have long-term consequences for patients, such as late diagnosis, an inaccurate treatment plan, and even death. Family members can be a support for the patient by ensuring their medical professionals have the right information to make educated decisions about the patient's treatment plan. Family members can also communicate with healthcare professions about any fluxes in the patient's lifestyle. For example, family members can notify the medical doctor if there are any reactions the patients might have with the medications they are prescribed. This is crucial because the patient might not have the emotional or psychological strength to notify their doctors. By communicating with healthcare providers about any concerns or preferences in the patient's state of condition, family members can ensure a patient receives the appropriate care they require.
Extra Support
In conclusion, family members can play a crucial role in improving a patient's health journey through emotional support, support in treatment plans, and by reducing medical errors. By leveraging the support of family members, healthcare professionals can provide a personalized care plan for their patients.
Thank you for reading. To stay up to date on current healthcare topics and news about Aetonix, subscribe to our mailing list at the bottom of our blog page. Connect with us on social media using the links at the bottom of this page and share your thoughts!