Canada is a leader in providing high-quality healthcare services to patients nationwide. While there is no doubt that healthcare in Canada is advanced when compared with lesser-developed nations, there is always room for improvements and innovation in the sector. In recent years, Canadian healthcare has experienced a few hardships, such as a shortage of healthcare professionals. This both limits access to healthcare services for patients, and puts increased pressure on healthcare workers. To overcome challenges such as these and ensure healthcare professionals are able to adequately provide care for patients, many organizations are seeking new ways to enhance their healthcare processes.
Here, we'll highlight a few of the ways telehealth is helping Canadian healthcare professionals through the use of remote patient management:
Enhancing Healthcare Processes With Telehealth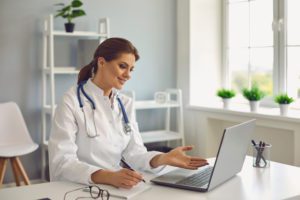 A common solution that organizations have turned to in order to provide ease of work to healthcare professionals is telehealth. Through virtual care platforms, healthcare professionals can access a variety of useful tools that can enhance the way they deliver care, and even lessen their workload. With the advancement in these technology-based solutions in the healthcare sector, organizations such as primary care clinics, hospitals, specialty clinics, and care homes can all benefit from improved efficiency.
When looking to implement a telehealth platform, healthcare providers should ensure it is able to meet all of their needs, and their patient's needs. Many of these solutions are focused on enhancing one or few healthcare processes, such as virtual appointments or patient screening. With fully integrated telehealth platforms that offer remote patient management, these organizations can utilize features that improve efficiency in most patient care processes. This can include managing patients every step of the way, whether they have a chronic illness and require continuous care, are preparing for a surgical procedure, recovering from an operation, or simply wish to continue regular check-ups with their primary care physician.
Benefits of Remote Patient Management For Canadian Healthcare Providers
Improves Diagnosis & Decision Making
With traditional healthcare visits within Canada, patients and healthcare providers are limited to how often they can communicate with one another and share health-related data. Even with remote monitoring equipment, if the proper telehealth platform is not being used, patients will still need to wait until their next visit before discussing any changes in their condition. With remote patient management however, patients are encouraged to log their health data regularly, and can instantly share it with their care circle. In doing so, healthcare professionals and their patients can be on the same page about the status of the patient's health, and what steps must be taken next to maintain or improve their condition.
This is important for reducing healthcare professionals' workload, as collecting, interpreting, and storing patients' data manually requires a considerable amount of time and resources. Telehealth visits can also allow healthcare providers to enhance the methods they use for diagnosing a patient's illness. In an article written by Jeff Brady, M.D, he analyses the findings of an issue brief related to "Telediagnosis". The findings he discusses show that through virtual visits, patients' family members are able to give their input about a patient's condition, and healthcare providers can assess the patient's living condition and determine whether it may be a factor in their health. In doing so, providers can not only improve the way they are able to care for patients, they can also reduce the amount of time it takes to land on a diagnosis.
Allows For Efficient Patient Management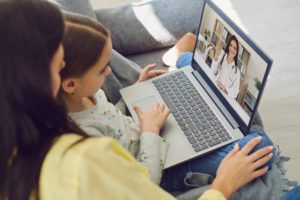 Healthcare organizations within Canada are typically made up of various types of healthcare professionals who bring their own unique skills and expertise. Most commonly, patients seeking healthcare services will be in contact with registered nurses, physicians, specialists, and other healthcare providers along the way. The involvement of so many parties can sometimes be difficult to keep up with all of their medical history, and needs.
With remote patient management, multiple healthcare providers can access a telehealth platform to keep in touch with patients and other members of their care circle. For example, with the aTouchAway platform, patients will most commonly be in contact with their primary care physician. Through this platform, healthcare providers can conduct virtual visits, follow-up with patients regularly, send medical resources, and collect health insights.
In keeping all members of a patient's care circle connected through the same platform, healthcare organizations can reduce the amount of time their staff must spend piecing together various components of a patient's requirements and progress.
Reduces Tedious Labour
One of the leading benefits of telehealth is the convenience it offers patients and healthcare providers. With traditional in-person healthcare visits, it's common for providers to spend a good portion of the visit using equipment to monitor a patient's symptoms and record their findings. This can reduce the amount of time the provider is able to spend completing tasks that could be more beneficial to their patients, such as discussing their health concerns in greater detail.
With remote patient management, providers can shift some of the "work" onto the patient, which both reduces the amount of time they must spend completing this, and can actually provide more accurate results for patient data, among other benefits. In addition to reducing the time providers must spend monitoring patients, remote patient management can also help save time with assigning custom, or already assembled care plans as they can be integrated directly into the platform and assigned to patients.
Continuing To Provide Ease of Work To Canadian Healthcare Professionals With Remote Patient Management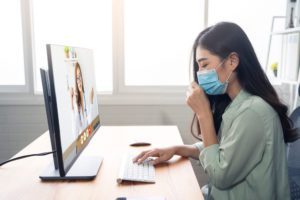 With the many benefits telehealth offers, it's clear to see why so many healthcare organizations are implementing these systems to better serve their patients and enhance workplace processes for staff. By utilizing remote patient management systems and all of the features they offer, healthcare providers can continue to improve the ways they diagnose patients, manage their conditions, and perform various care tasks.
Thank you for reading. To stay up to date on current healthcare topics and news about Aetonix, subscribe to our mailing list at the bottom of our blog page. Connect with us on social media using the links at the bottom of this page and share your thoughts!