Building relationships with patients is essential to providing quality healthcare services. A strong patient-provider relationship can help increase levels of trust and understanding, which can ultimately improve healthcare providers' ability to meet patients' individual needs. When it comes to improving these relationships, there are several options providers can utilize, one of which is virtual care pathways.
With the rise of telehealth, and more patients seeking healthcare services remotely, many providers are turning to these solutions to provide effective services while maintaining or improving their relationships with patients. While building patient relationships virtually may sound challenging, there are several unique features which can make this process seamless for all parties involved.
Understanding The Importance of Virtual Care Pathways

Prior to utilizing a care platform that facilitates virtual care pathways, it is beneficial for healthcare providers to gain a clear understanding of what these pathways are, and how they differ from traditional in-person ones. Virtual care pathways can be defined as packages that include assessment materials, educational materials, and roadmaps that care providers and patients can follow and be guided by. These pathways can be used for complete management of chronic conditions such as COPD or diabetes, as well as acute management for pre, or post-operative care, patient screening, and more.
Traditional care pathways are defined as "a complex intervention for the mutual decision-making and organization of care processes for a well-defined group of patients during a well-defined period". The aim of these pathways is enhanced quality of care, improved patient outcomes, and better overall patient satisfaction and safety. While there are clear benefits to utilizing care pathways, whether in-person or virtually, some processes can be further enhanced when delivered remotely. By offering care pathways virtually, healthcare providers can meet their objectives more efficiently and have more time to improve their relationships with patients.
Benefits of Virtual Care Pathways For Providers
Collecting Patient Feedback and Data Can Be Done Effortlessly
In order to create strong patient-provider relationships, providers must ensure they are effectively meeting the needs of their patients. More often than not, with traditional in-person care, providers do not have ample time to spend communicating with patients about secondary health concerns or other topics as they must spend a majority of the visit reviewing and interpreting symptoms. This can lead to patients having to return frequently for visits that could have otherwise been avoided had there been time to address their concerns, which can lead to a perceived lack of quality. Furthermore, healthcare providers often do not have the time to communicate directly with patients to gather feedback about the quality of their visits during in-person healthcare appointments.
With virtual care pathways, these barriers to patient communication and satisfaction can be significantly minimized, which can lead to a better overall patient-provider relationship. Through these pathways, healthcare providers can stay updated on their patients' health in real-time, whether through remote monitoring equipment, or direct messages from patients. They can also send follow-up messages to patients to see how they are progressing with their health. By creating more efficient means of collecting patient data and feedback, healthcare providers can focus more of their scheduled appointment time connecting with their patients on a more personal level, and gain a deeper understanding of their needs.
Efficiency For Regular Healthcare Processes Can Be Improved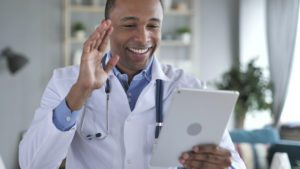 Healthcare processes can be tedious, and often involve more than one healthcare professional. When caring for patients with chronic or acute healthcare needs, physicians, registered nurses, licensed practical nurses, care aides, and other healthcare workers are likely to participate in the care process. With involvement from multiple parties, it is important that care processes are as efficient as possible to minimize confusion and improve patient care.
By utilizing virtual care pathways, healthcare organizations can enhance a variety of complex duties. For example, the care pathway aTouchAway offers for COPD management allows for simplified follow up, automated assessment and evaluation forms, and guided patient education sessions. When patients are assigned this care pathway, various members of their care circle can be included and assigned different care tasks through the platform. This allows them to quickly access patient data, and follow up all in the same place. The increased efficiency allows healthcare providers to spend more time building relationships with patients through the simplification of processes.
Benefits of Virtual Care Pathways For Patients
Healthcare Services Can Be Accessed From Anywhere With An Internet Connection
For many patients, access to in-person healthcare services are limited, especially for those who reside in remote communities. In Canada, fewer than 10% of physicians and only 2% of specialists are available in rural areas despite 22% of the population living in these communities. This can cause a number of complex issues for patients, especially when they require care for a chronic condition. Patients may have to travel far distances to visit their primary care provider, and may even put off getting the care they need due to accessibility issues. Patients who do not have regular access to care are also at higher risk of hospitalization for their condition.
With virtual care pathways, healthcare providers can stay connected with patients regardless of where they are located, granted they have access to a smart device with an internet connection. This can help ensure patients have the continued support they need to further their health progress, and help create a stronger patient-provider relationship.
Communicating With Care Team Members is Straightforward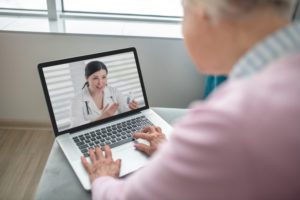 For those who have complex needs, for example patients living with one or more chronic illness or health ailment, it is common to see multiple healthcare professionals and specialists. Patients may also wish to keep loved ones or caregivers in the loop when it comes to their health. With traditional care practices, it can be difficult for patients to keep all of these members updated on changes in their health, and effectively communicate their health needs.
When patients are enrolled in a virtual care pathway however, healthcare providers can grant access permission to other parties that have been approved by the patient. With this, patients are able to communicate with various healthcare professionals, or other members of their care circles and keep them updated on the status of their health. This can help patients create stronger bonds with their care providers by allowing them to easily connect through messaging, and video conferencing.
The Future of Telehealth & Patient-Provider Relationships
One of the main outcomes healthcare providers hope to achieve when utilizing virtual care pathways is enhancing the care experience for their patients. When patients' care needs are met, and they are able to feel comfortable communicating with their care team, it is more likely that they will be able to form stronger connections with their providers. By seamlessly collecting patient's data and feedback, enhancing efficiency and communication, and creating more accessible care through virtual care pathways, healthcare providers can continue to strengthen patient-provider relationships.
Thank you for reading. To stay up to date on current healthcare topics and news about Aetonix, subscribe to our mailing list at the bottom of our blog page. Connect with us on social media using the links at the bottom of this page and share your thoughts!